NovaPlus™ Nitrile Exam Glove by Vizient, 200 Gloves, 6mil, Orchid, Chemo + Fentanyl
The NovaPlus Nitrile Exam Glove is 6 mils thick. The NBR Nitrile Rubber is FDA 510K Medical Examination Grade. Nitrile comfort exam gloves are latex-free, non-sterile, powder-free, finger textured, and ambidextrous. Boxes include 100 gloves. Choose from blue, black, white, pink, purple, orange, or green and sizes extra small, medium, large, extra-large, and XXL.
Click Here to view the product specification sheet
Package Contents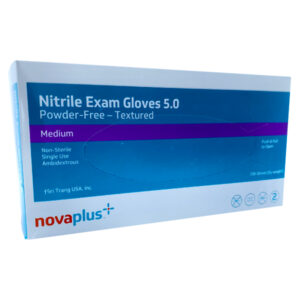 200 Gloves Per Box
This is a non-sterile, disposable device intended for medical purposes (except surgery) where the presence of glove powder should be avoided and is worn on the hand to prevent contamination between patient and examiner.
Tested for use with chemotherapy drugs according to ASTM D6978. Chemotherapy drugs tested: 5- Fluorouracil, BleomycinSulfate, Busulfan, Carboplatin, Carmustine, Cisplatinum, Cyclophosphamide (Cytoxan), Cytarabine, Dacarbazine(DTIC), Daunorubicin, Docetaxel, Doxorubicin Hydrochloride, Epirubicin, Etoposide (Toposar), Fludarabine, Gemcitabine, Idarubicin, Ifosfamide, Irinotecan, Mechlorethamine, Melphalan, Methotrexate, Mitomycin C, Mitoxantrone, Paclitaxel (Taxol), Rituximab, Thiotepa, Trisenox, Vincristine Sulfate. Contact Quality Assurance for a copy of test data.
Tested for use with Fentanyl Citrate according to ASTM D6978.
Textured, Ambidextrous (fits either hand)
Rolled rim / beaded cuff
Extra Small (XS), Small (S), Medium (M), Large (L), Extra Large (XL), Extra Extra Large (XXL) Orchid
Medical Nitrile Examination Gloves Powder Free.
FDA 510(K) K193581, FDA 21 CFR 177 (FDA Food Safe), CE, ASTM D6319, ASTM D6978, ASTM D5151, ASTM F1671
Quality Standards: ISO 9001:2015, EN ISO 13485:2016, EN ISO 10993
Certifications: FDA 510(K), FDA 21 CFR 177 (FDA Food Safe), CE, ASTM D6319 (Medical Examination), ASTM D5151 (Freedom From Holes), ASTM F1671 (Viral Barrier Protection), ASTM D6978 (Chemo + Fentanyl Tested)